ESEIA Lecture Series Is Off to a Great Start!
The first lecture in the ESEIA Lecture Series on Sustainable Energy Innovation Systems for Climate Neutrality was a great success! Over 70 attendees joined us in person in Graz and online from all over the world to hear Professor Brian Norton speak on Photovoltaic (PV) Systems and their Applications.
The lecture was held at the Auditorium (Aula) of the Graz University of Technology, on 6 October 2022, from 19:00 to 21:00 CET. It marked the beginning of the series organised by ESEIA in cooperation with the Graz University of Technology to discuss how to achieve climate neutrality by 2050.
The session started with the opening remarks by the ESEIA President and Rector of the Graz University of Technology Harald Kainz, and the ESEIA Director Brigitte Hasewend.
As founding members, they highlighted the role ESEIA plays in advancing the green future.
"We aim at tackling the energy topics for climate transformation from a systematic perspective. This means collaboration between higher education, research, business, public service, and society," said Harald Kainz.
Brigitte Hasewend used the Greek term agora to describe the concept behind the ESEIA Lecture Series. It is meant to be an open space for assembly, where "people come together to think about ways forward, and it is a great opportunity to do this together with you," she added.
Then, the Head of the Institute of Chemistry and Technology of Materials at Graz University of Technology Martin Wilkening, who chaired the event, introduced the topic and the panel of speakers:
PV Systems: Applications, challenges and opportunities
During his lecture, Professor Brian Norton covered different aspects related to PV systems and their applications, providing valuable information on what PV energy is and how it works. He noted, "although PV systems seem very different, they are intimately linked in terms of how a sustainable future will be created and how these systems have to work together to provide the comfort and amenity people actually want."
He concluded with a note about new and emerging developments in solar energy. "Most people do not use energy, they use what energy produces", pointed out Professor Brian Norton, and when it comes to designing PV applications, the key is to start from the end, by looking at "what you are trying to achieve and build PV systems around that."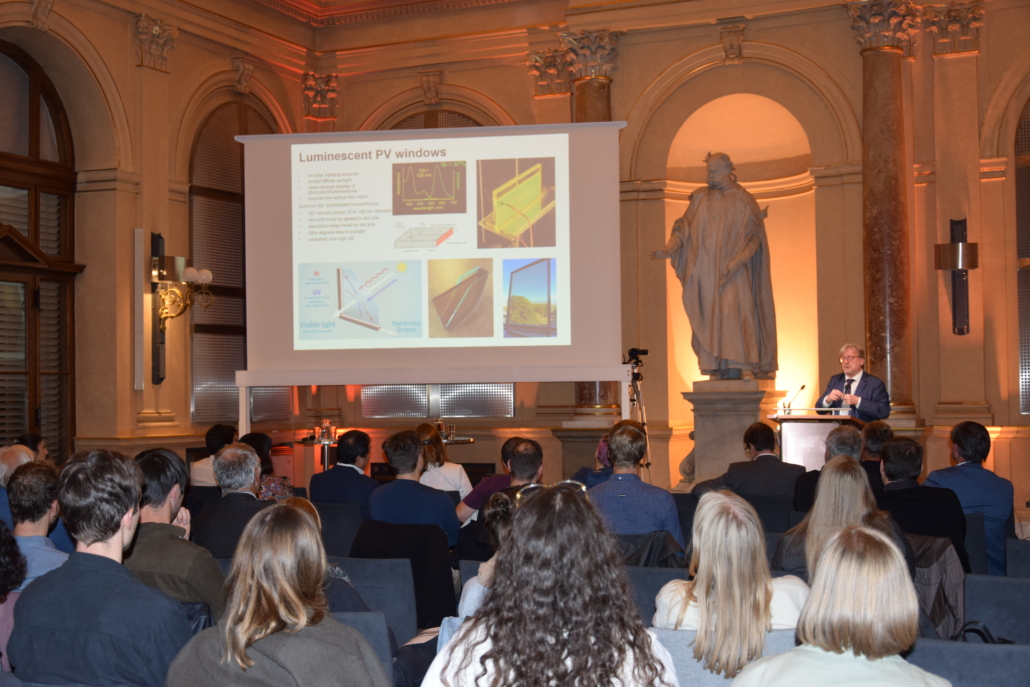 After Professor Brian Norton's lecture, Robert Schmied delivered remarks on the potential of solar PV power generation in the future energy system in the city of Graz. According to him, in 2030, Austria will need an additional 27 TWh in electricity generation, and 11 TWh of this will have to come from PV systems. "We should take every chance to realise PV systems where we can", he urged. He also explained how the Graz Energy Agency is committed to supporting the energy transition, including funding applications for PV subsidies.
Christoph Grimmer then took the opportunity to shed light on how people can produce their electricity with real-life examples. He presented SolMate, a PV system with electricity storage for the power socket created by EET. "We make renewable energy easy, safe, and reliable for everyone," he explained. After a short introduction to EET, Christoph Grimmer focused on providing advice for entrepreneurs on how to start a business, from writing a business plan to getting funding.
The discussion that followed the three presentations was extremely lively and engaging, with on-site and remote participants asking questions about PV systems and their features, solar power installation requirements, biggest challenges faced by start-ups.
Thank you to the speakers, the participants, the Graz University of Technology, and all the people involved in making this event possible. Also a big thank you to Chair Martin Wilkening for doing such a good job in moderating the event. We have got more lectures coming up and we hope you can join us!
Upcoming lecture: Repower Europe
The second lecture in this series will be delivered on 17 November 2022 by the ESEIA Vice-President and President of LNEG, Teresa Ponce de Leão, and will focus on the green energy transition in Europe. The CEO of Energie Steiermark Martin Graf and the Energy Head of Unit at the Styrian Chamber of Labour Karl-Heinz Kettl will join the discussion.
The Head of the Institute of Electricity Economics and Energy Innovation at Graz University of Technology Sonja Wogrin chairs the lecture.
The lecture is free and open to all interested stakeholders. Register here to attend!
Click here for more information about ESEIA Lecture Series.
Contact:
ESEIA Team: office@eseia.eu
https://eseia.eu/wp-content/uploads/2022/10/PV-Systems-and-Their-Applications-Lecture.jpg
630
1200
Viktoriya Zoriy
https://eseia.eu/wp-content/uploads/2022/01/ESEIA-logo-small.png
Viktoriya Zoriy
2022-10-10 10:02:48
2022-10-26 10:45:53
ESEIA Lecture Series Is Off to a Great Start!